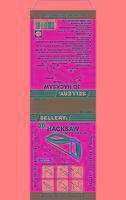 3D HACKSAW

FEATURES :
1. Unique arc shaped frame that can be set into four different positions ; can also be turned sideways either to the left or to the right for easy access to hard reach work areas .
2. Unique blade notch design that enables the user to turn the blade to the following positions-45゚, 90゚, 180゚and 270゚positions .
3. Easy tensioning locking-nut keeps blades tightly in position for straight cuts .
4. Ergonomically designed handle for grip performance and comfort .
5. Includes-12"saw blade .
CAUTION :
˙This is not a toy – keep out of reach from children .
˙Wear safety eyewear and gloves for protection .
ORIGIN : TAIWAN
ADDRESS : 7F. ,No. 168, Sec. 1, Shipai Rd. , Beitou Dist. , Taipei City 112, Taiwan (R. O. C.)

Loading...
Item per page: